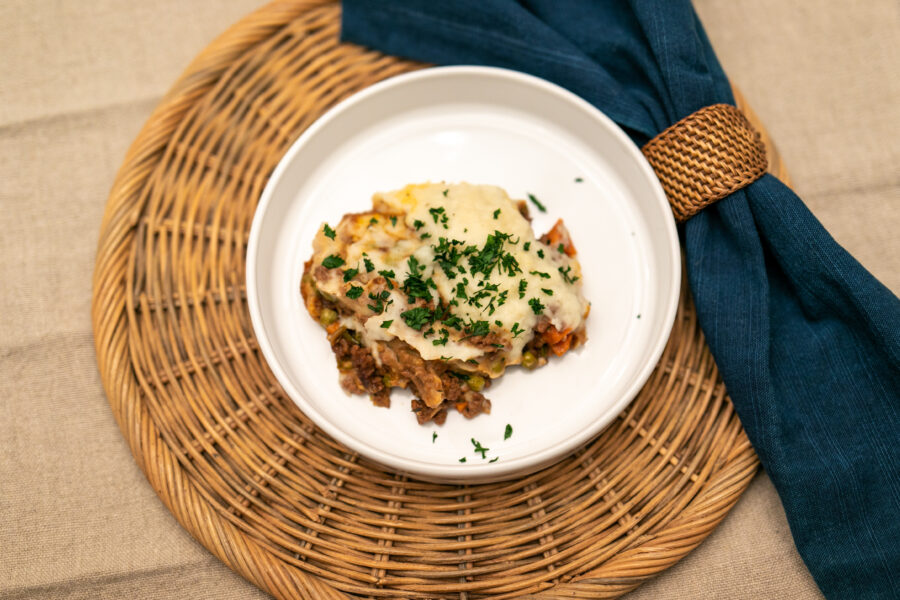 The best gluten free Cottage Pie is oh so delicious and oh so comforting. It has a bottom layer of ground beef and vegetables, and is loaded with flavor from a home made savory sauce, then topped with fluffy mashed potatoes that forms a golden crust. I can promise you that your whole family will love this dish. What could be better than that?


Gluten Free Cottage Pie is the epitome of comfort food. If you're a lover of comfort food and casseroles, then you've come to the right place. The wonderful combination of meat, gravy and creamy mashed potatoes is right up there with my favorite comfort foods including Rissotto and Stuffed Peppers.
Although the list may look intimidating, I promise it comes together very easily. There is nothing difficult about this recipe. All you need is one large pan and a pot to boil the mashed potatoes.
You might be thinking, what's the difference between Sheperd's Pie and Cottage Pie? First of all, Sheperd's pie contains lamb and is an Irish Classic. It was referred to as Sheperd's Pie because a sheperd looks after it sheep.
Cottage Pie contains ground beef and is a classic English dish. Both pies do contain mashed potatoes and veggies. Back then, the name "Cottage" was used around the same time that potatoes were introduced to meat pies in England due to the affordability for the peasants, many of which lived in cottages. The first cottage pie was used at the end of the 18th century.
Wives and mothers back in the old days had to get creative when cooking for their families. Many of the families were very poor, often having a lot of mouths to feed. Meat pies were a great choice. You could pretty much put any ingredient into a meat pie. I find it so inspiring that women got creative in how to use leftovers, and provide a meal that filled the whole family up.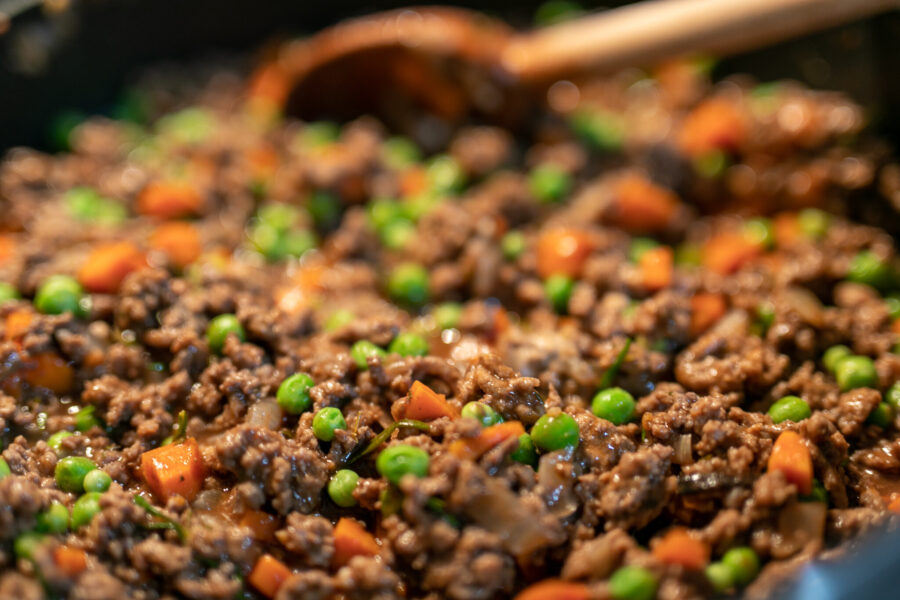 For our family, I can honestly tell you that lamb is not a fave around here. We do, however, love beef. Technically, this is considered a Cottage pie, because my recipe calls for ground beef. Ultimately, the choice of which protein to use is up to you. You can make this recipe with either ground lamb or ground beef.
For vegetarians: you could definitely make this with loads of baby bella and portobello mushrooms. Slice the mushrooms and saute until tender. Then follow the same directions in the recipe below.
Living in New England, we New Englander's crave comfort food, especially when it starts to get cold. This recipe is sure comfort food, that will warm you from the inside out during the cold long winters.
Can you believe we had our first snowfall of the year last weekend? For real. I still cannot believe it. Seeing the snow falling made me want something warm and filling. The first thought that came to my mind was a Gluten Free Cottage Pie. I made my list of ingredients and went over to the grocery store to get all the the ingredients and came home and started cooking.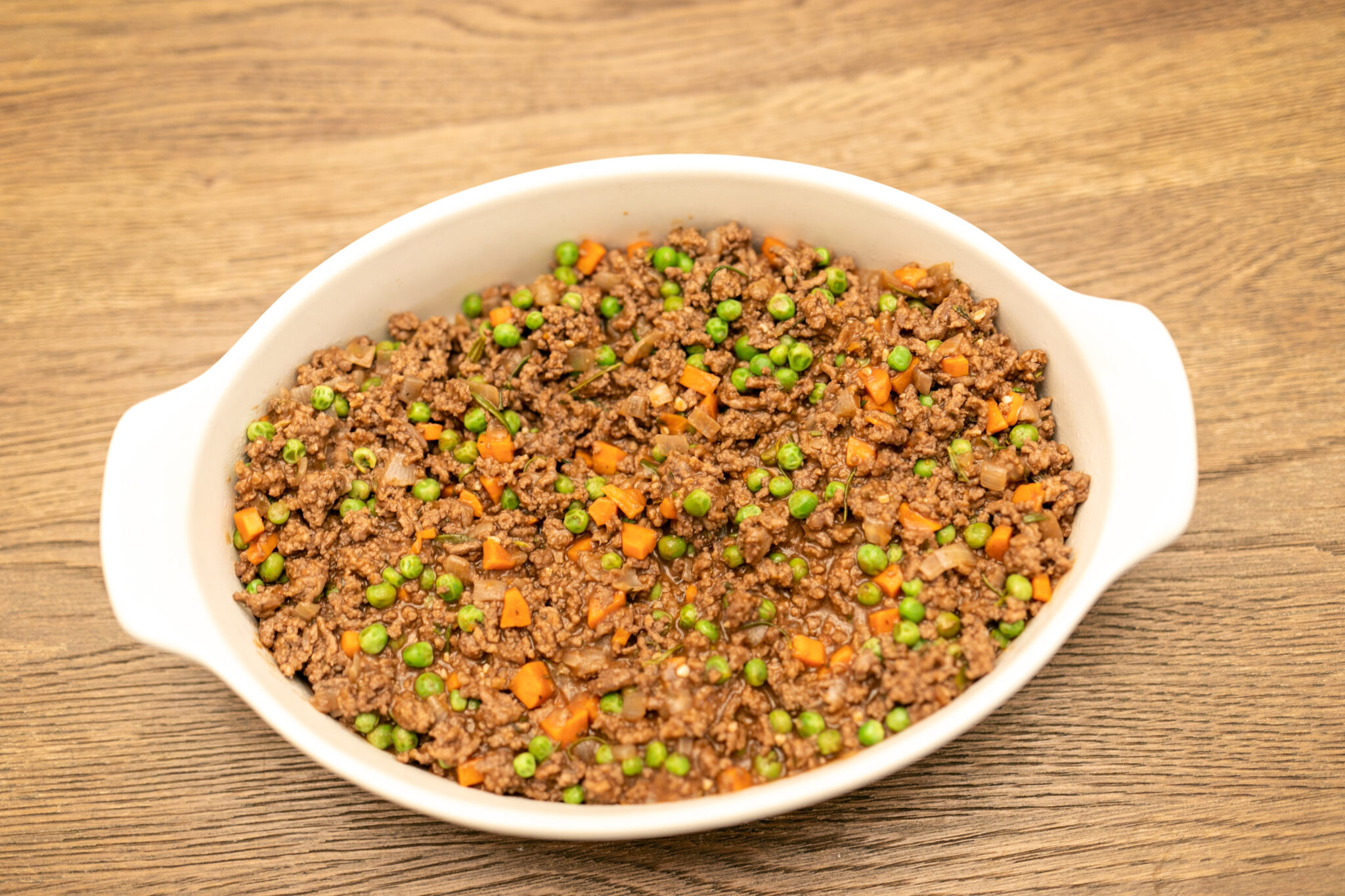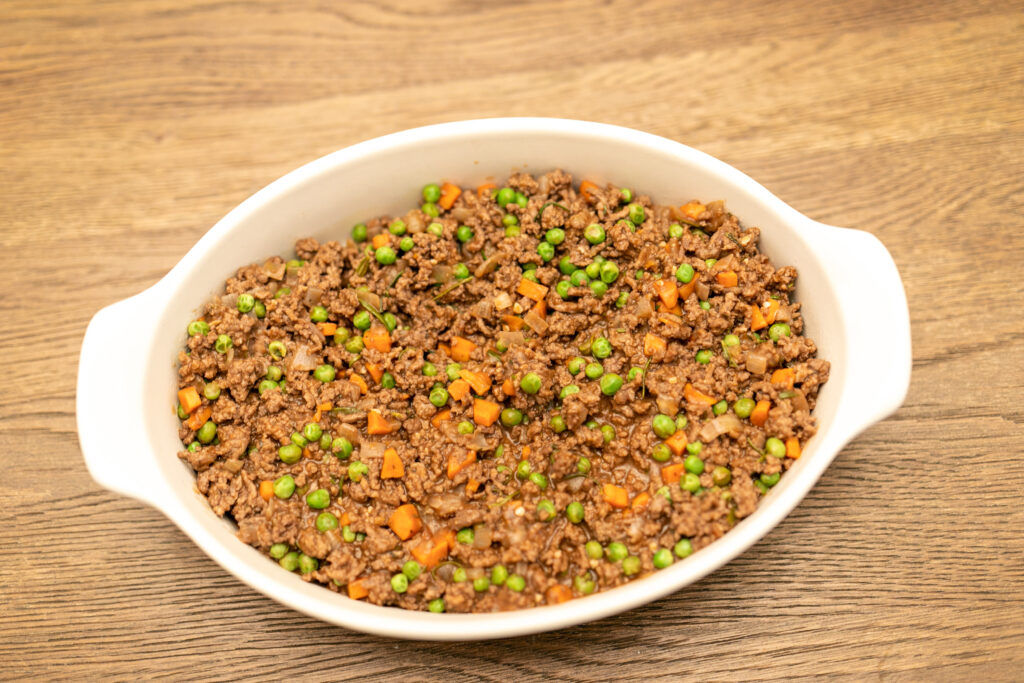 Another plus about gluten free Cottage Pie is that you can use one pan to make this. It is also a relatively inexpensive dish to make for a family. When making this recipe, I always use two pounds of ground beef because I love eating this for a few days.
This recipe is also a great way to add vegetables for those picky eaters. I have made this for many families and the kids ate it right up. My son loved it and asked when I was making it again. He had a few helpings.
Even the dogs were patiently waiting for a piece of the gluten free Cottage pie. They're like my kids, so of course I had to give them a little bite. If you love onions like I do, check out The Best Caramelized Onions recipe.
Print
Gluten Free Cottage Pie
Gluten Free Cottage Pie has a bottom layer of ground beef and vegetables, and is loaded with flavor from a home made savory sauce, then topped with fluffy mashed potatoes that forms a golden crust.
Prep Time:

30 minutes

Cook Time:

30 minutes

Total Time:

1 hour

Category:

Main Course

Cuisine:

American
2

Pounds Organic Ground Beef- I use 90 percent or higher (You can use your choice of Ground Beef)

3

pounds Organic Potatoes (Russett or Yellow- I used Rusett)

1/2

Stick Butter

1 Cup

Organic Whole Milk

3

Carrots Peeled, Cut and chopped into small pieces (I used Medium to Large Carrots)
Salt To Taste-season meat well
Pepper To Taste-Season meat well

1

Medium Organic Onion -cut and finely chopped (I used a Yellow Onion)

4 Tbsp

Paste Tomato

5 Tbsp

Worcestershire Sauce (Make sure it is a brand that is Glu

ten

Free)

1/2 Cup

Red Wine (You do not have to use wine but I do like the richness the wine adds to the meat. A nice quality Red wine that you would drink. I personally used a Cabernet Sauvignon.)

1 1/2 Cup

Pacific Foods Beef Stock (Low in Sodium)

1

Full Bag Organic Frozen Peas

3

Tbsp Corn Starch (For thickening- I use

3 tablespoon

of Corn Starch mixed with

3 tablespoons

of water)

2 Tsp

Minced Garlic

2

Fresh Sprigs Rosemary chopped small

2

Sprigs Thyme leaves chopped small
Instructions
1). Preheat oven to 400 F degrees.
Peel the potatoes and put in a large pot filled with cold salted water. Bring to a boil and let them cook until tender. Then add 1/2 stick of butter, and about 1 cup of whole milk and salt and pepper. I warm the butter and the milk together on the stove before adding to the potatoes. Use a hand mixer to incorporate together. If you like them creamier, add a little more whole milk at a time until the consistency is to your liking. Cover the potatoes until the Pie is ready to go into the oven. Season well with salt and pepper.
2).Turn stove top to medium heat, add a 2-3 Tablespoon olive oil to a big oven safe skillet. Break up pieces of ground beef into small crumbles as it cooks. Cook the ground beef until browned. Once fully cooked, remove from heat, transfer to a bowl or a plate and cover.
Season the ground beef well with Salt and Pepper.
In the same pan, add about a tablespoon of olive oil and add the finely chopped onions and chopped carrots to the same skillet. Cook for about 5 minutes or until soft.
Add the beef back to the same oven safe skillet. Add the wine and let it reduce down for about 4-5 minutes. Then prepare the Cornstarch Slurry of 3 tbsp of cornstarch and 3 tbsp of water. Mix together in a small bowl and add to the ground beef.
Add the tomato paste, beef stock, Worcestershire sauce, full bag of frozen peas, rosemary and thyme. Bring to a boil and reduce heat to a low simmer for about 10 minutes or until the sauce thickens and the flavors develop. Season with salt and pepper.
Add the mashed potatoes and spread evenly over top of the beef mixture, cover with foil and put in the oven for 20-30 minutes. If you're putting it in the oven right after assembling, it should take about 25 minutes or so. I take the foil off to to let the potatoes crisp up for a few minutes at the end. You could also broil the the pie for a few minute as well to crisp up the potatoes. If you make a head like I did, I put mine in the oven for about an hour.
Notes
This comfort Gluten Free Cottage Pie dish will satisfy your need for comfort food.  
To make ahead:  Cottage Pie can be made up to 3 days in advance.  For the best results, store the meat mixture and the mashed potatoes in separate containers.  If you do make the mashed potatoes ahead, you might want to add a little more warmed milk to the potatoes to make them softer.  
To Store:  Leftovers can be stored for up to 4 days in the fridge.  
To Freeze:  To freeze Cottage Pie, use a freezer safe pan and allow it cool before placing it into the freezer.  Make sure to wrap well and use 2 layers of foil and plastic wrap.  Cottage Pie can be stored in the freezer for two months.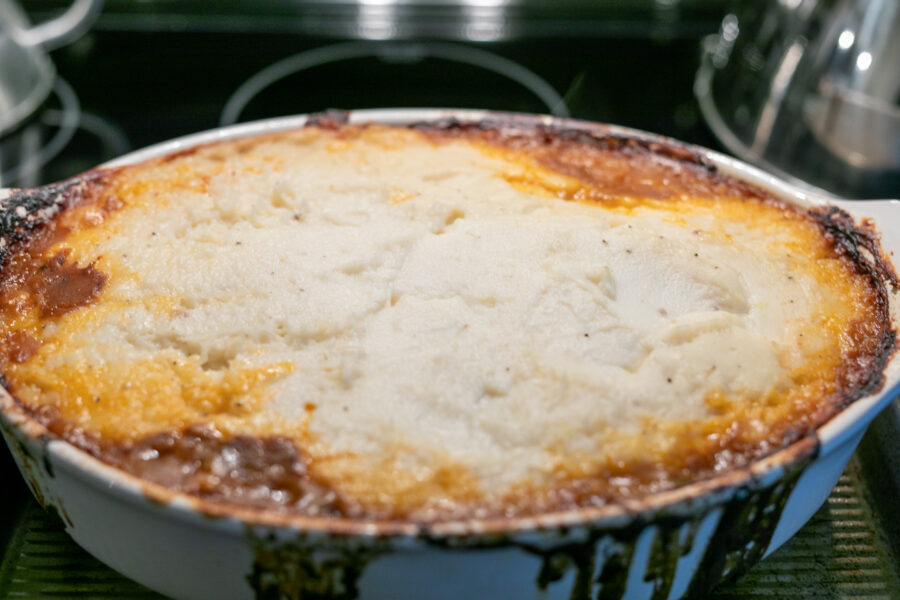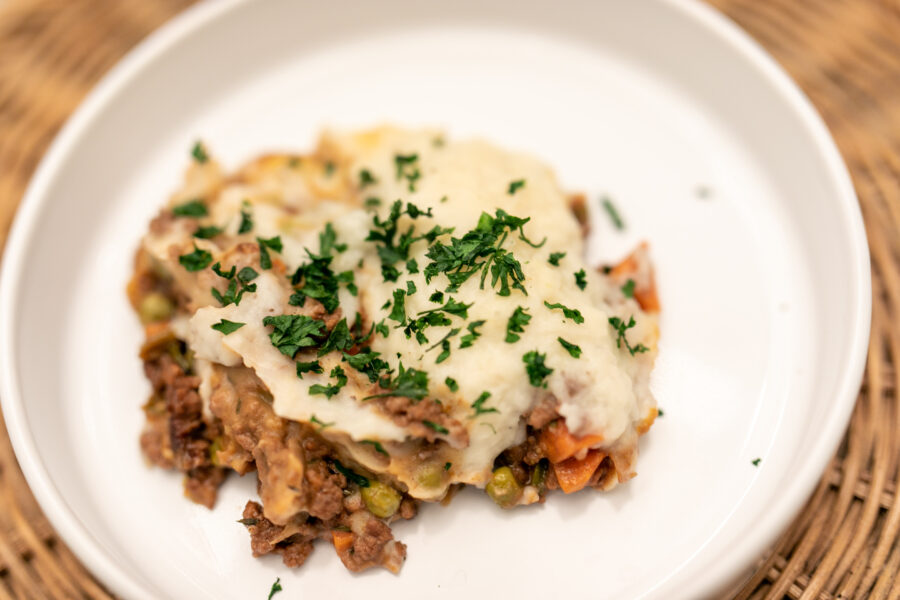 Shop this Post-
KitchenAid Hand Mixer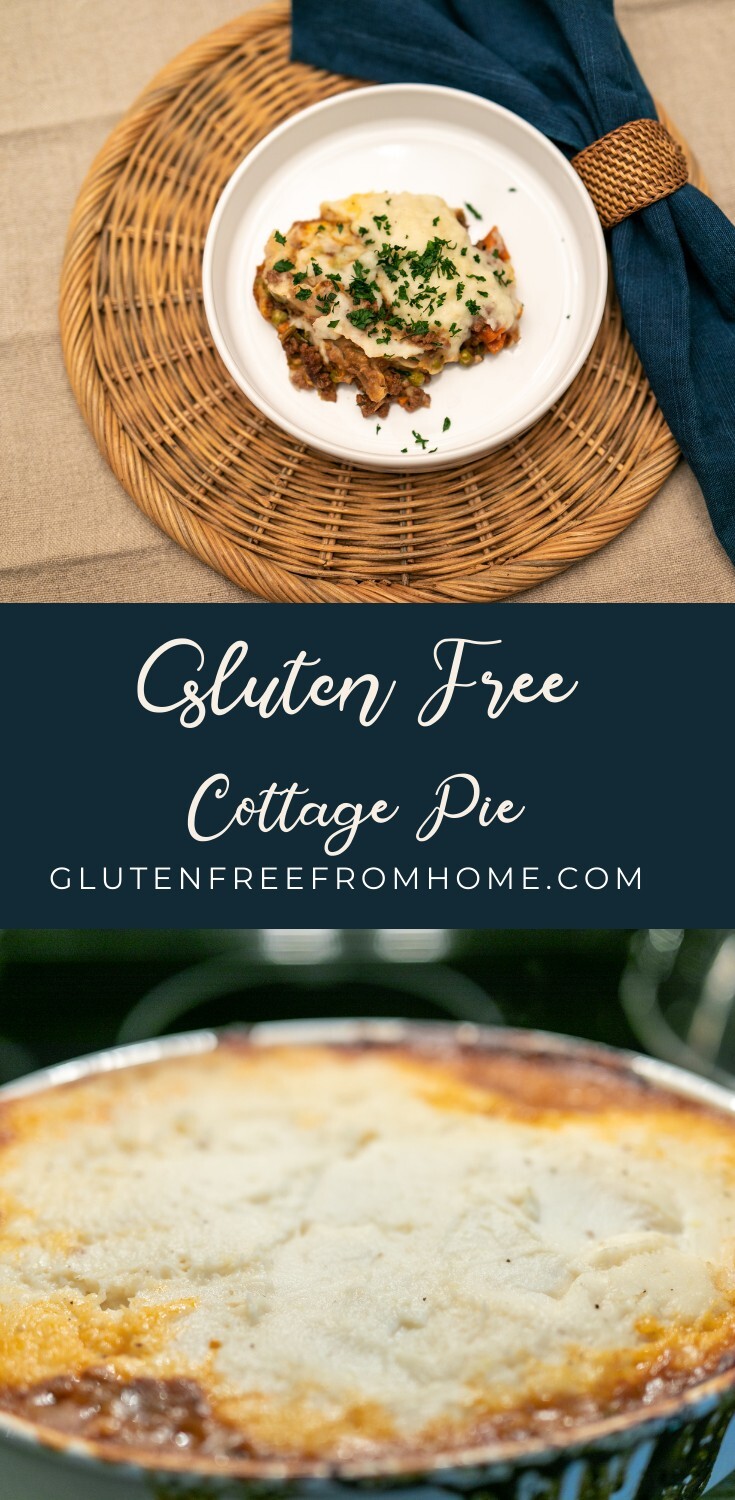 As an Amazon Associate I earn from qualifying purchases. This post may contain affiliate links which means I make a small commission at no extra cost to you. See my full disclosure
here.