This homemade gluten free pasta fagioli soup is loaded with fresh veggies, herbs, pepperoni, creamy beans and tender pasta in a rich tomato broth. This traditional soup is made with pantry staples and inexpensive ingredients, making it a great family meal any night of the week. The best part of my homemade gluten free Pasta Fagioli is that it is all about fresh and healthy ingredients. My gluten free Pasta Fagioli is simple to make as well.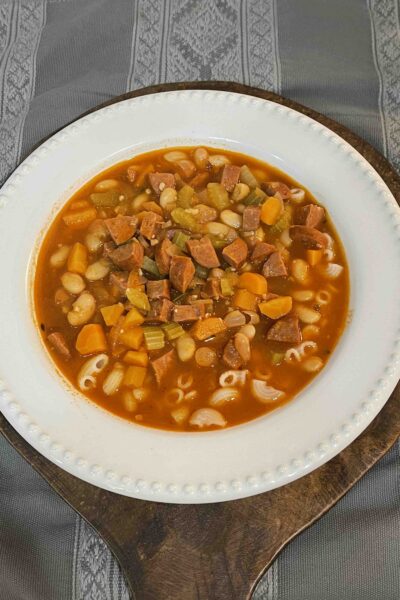 Homemade Gluten Free Pasta Fagioli-
When the summer days come to end and the leaves start to change, that is when I think of Fall. Fall is my favorite season for so many reasons-Comfy sweaters, a warm fire, pumpkins and apples, spices, leaves changing to beautiful colors, and hearty filling meals to warm my insides. On a day where you feel you need to warm up, this soup is the ticket. Gluten free Pasta Fagioli is one of my go to meals when I am craving comfort food.
What makes this soup so special?
Pasta Fagioli literally means "pasta and beans" referring to the two main ingredients in this dish. It is often called pasta fasul in the United States. This Italian staple started out as a peasant dish in due to its inexpensive ingredients.
There are lots of authentic variations depending on the region and from family to family. While dishes do vary from regions, it is most commonly made using Cannellini beans and Ditalini pasta. The base includes olive oil, garlic, chopped onion, celery, carrots, and stewed tomatoes or tomato paste. Due to variations with this soup, some omit tomatoes and use a broth base instead.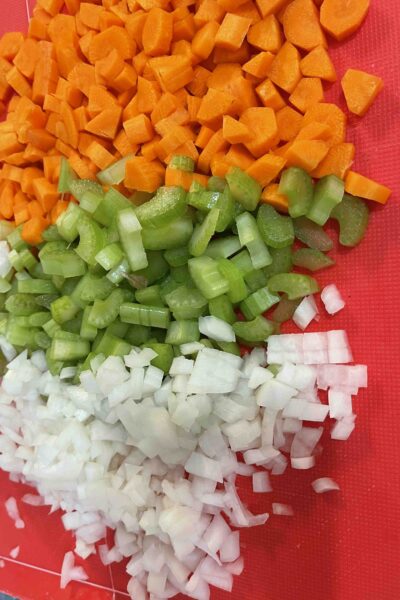 Gluten Free Pasta Fagioli can be made vegetarian or be made with meat. The traditional meats used are bacon, ground beef or pancetta. Regions throughout Italy prepare this soup rather differently. Some regions can make this more like a soup, while other regions make it much thicker.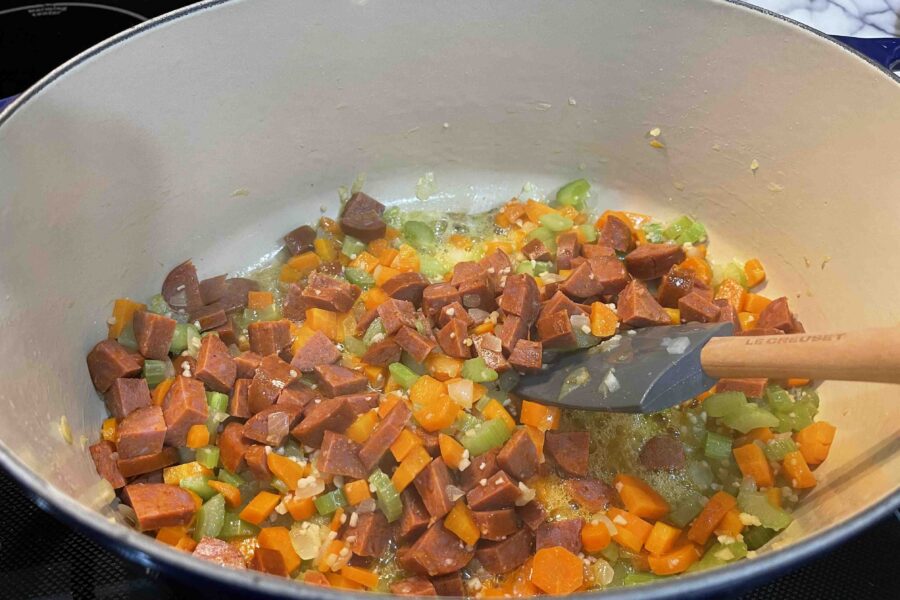 Pasta e Fagioli is traditionally made with bacon, ground beef or pancetta. While I have tried all the meats, I personally use Pepperoni. The reason being is that I love the depth of flavor the Pepperoni gives to this soup. When you grab your spoon and take the first bite, your taste palette will go-what is that? It really just adds a little something something.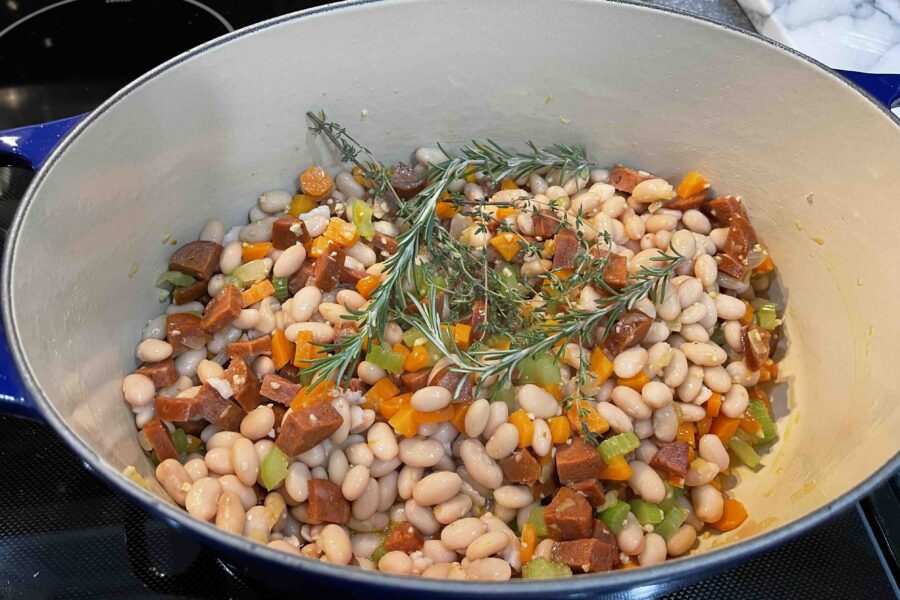 This soups reminds me of my grandmother. She comes from an Italian family and loves Italian food. And while this is my interpretation of Pasta e Fagioli, anyone at your dinner table will fall in love with this soup.
Gluten Free Pasta Fagioli is hearty and fills you up. This soup is a stick to your ribs kind of meal. I can never have just one bowl. I try to make this extra special by buying Artisanal pepperoni from Whole Foods. To top it off, I add loads of Parmesan Cheese sprinkled all over the top. I stir it together and watch it slowly blend in.
Is this Hard to Make at Home?
The answer is no. The reality is that it 's not hard to make at home. When you have a busy weeknight and don't have a lot of time, you can whip this up in no time. It's an easy weeknight dinner. One pot meals are always a good option, especially when life is hectic and gets busy. Even though it is considered a soup, it is so satisfying.
This soup can also be frozen and reheated and a later time for make ahead meals. To freeze, let the soup cool and put in a freezer safe container. Freeze up to 2 months. To reheat, put it in the fridge to thaw overnight. Then the next day, you can reheat on the stove or microwave. If you enjoy hearty comforting meals, try my Gluten Free Cottage Pie.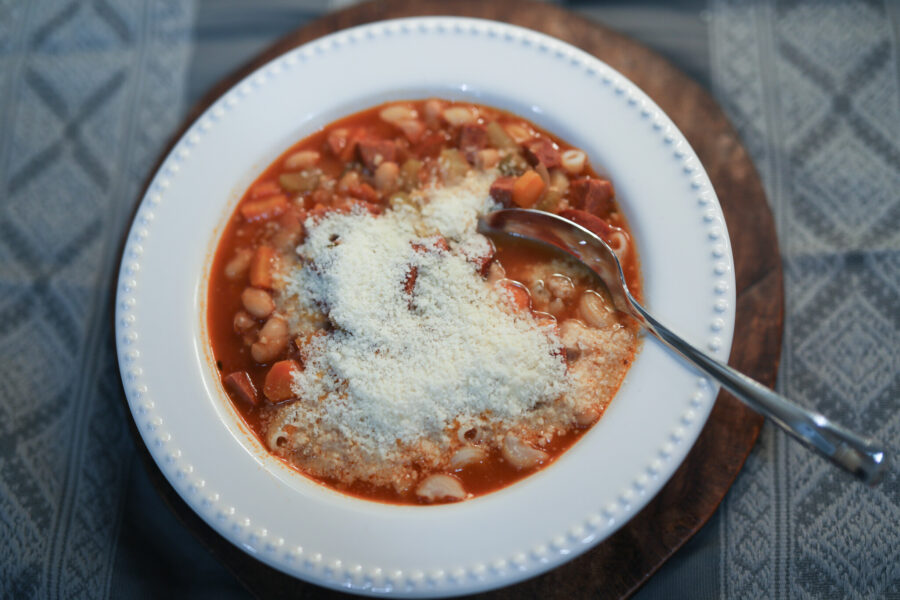 Print
Gluten Free Pasta Fagioli
Homemade Gluten Free Italian style Pasta e Fagioli Soup
Prep Time:

15 minutes

Cook Time:

20 minutes

Total Time:

35 minutes

Category:

Soup

Cuisine:

Italian
2

–

3

tbsp Good Olive Oil

1

medium Onion

3

cloves Garlic

1

stick Pepperoni-make sure its GF

4

Medium Stalks Celery

5

Medium to Large Carrots

2

Cans-15 ounces Cannellini Beans

8 ounces

Organic Tomato Sauce- I use the 365 Whole Foods Brand

2

sprigs Rosemary

2

sprigs Thyme

1

Fresh Bay Leaf- if using dry use two

2

32 ounce Pacific Foods low sodium chicken Broth

1

package Bionaturae Gluten Free Elbows or any pasta that is Gluten free
Instructions
Finely chop a medium onion.
Take 5 larger carrots and dice into round pieces.
Take 4 stalks of celery and cut into small pieces.
Cut the pepperoni into smaller chunks.
Turn the stove on to medium heat.
I always recommend using good olive oil and a dutch oven with deep sides.
Add two to three tablespoons of good quality olive oil.
Add the onions to the pot, and sautee for two minutes.
Add the carrots and celery and sautee for about 4-5 minutes. Stir
Add the diced pepperoni and sautee another two minutes. Stir.
Add chopped garlic. 3 cloves freshly chopped.
Add two cans 15 oz Cannellini beans that are rinsed. Stir.
And a small can tomato sauce.
Add Salt and Pepper to Taste.
Add two sprigs Rosemary left in tact, and two sprigs of Thyme. Add one fresh bayleaf. Use two if using dried.
Add two containers of Gluten Free low sodium Chicken Stock. I use Pacific Foods. Stir.
Turn heat to medium high or high heat and bring to a boil. Once boiling, cover and reduce heat to medium and let cook until the vegetables are nice and tender but not too soft. Stir occasionally.
Serve with your favorite pasta.
Scoop out the Rosemary and Thyme sprigs.
Ladle soup into bowls and add lots of grated cheese.
Notes
Because this is a gluten free recipe, I recommend making the pasta separately.  Depending on the brand of pasta you use, gluten free pasta can crumble.  The second reason is that if you boil the pasta with the soup together, the pasta can soak up most of the broth.  I use Bionaturae Elbow pasta.  I find it works very well for the size noodle you need. Traditionally, Ditalini is used.  Elbow pasta is the closest in size for a good solid gluten free pasta option.  When I am storing leftovers, I put the pasta in a separate container so that the pasta doesn't soak up all that yummy broth.  A glass of Red Wine pairs very nicely with this soup.  If you have family members that can have gluten, buy some good crusty bread that they use to soak that delicious broth up.  
Shop This Post-
Le Creuset Dutch Oven
OXO Soup Ladle
As an Amazon Associate I earn from qualifying purchases. This post may contain affiliate links which means I make a small commission at no extra cost to you. See my full disclosure
here.