Risotto is one of the classic Italian dishes. This gluten free risotto is so creamy and utterly satisfying. Risotto is a northern Italian rice dish that is cooked with broth until it reaches a creamy consistency. The broth can be vegetables, meat or fish. Many different types of risotto contain butter, onion, white wine and parmesan cheese.
What's the difference between rice and risotto? Rice is made with water.
Risotto is made by using arborio rice that is cooked slowly in stock and stirred often to get that rich creamy consistency. This results in the arborio rice releasing all its starches, creating a rich sauce that melts in your mouth. Risotto is best served al dente.
You would think Gluten Free Risotto is complicated to make, but I can assure that it's rather easy.
Arborio rice should never be pre-rinsed as washing would remove the starch that is required for a creamy texture.
Gluten free Risotto is made with rice, broth and whatever else you might want to put in. Risotto is one of those dishes that you can get pretty creative with. You can add ingredients you have on hand, or add your favorite ingredients. If you love this recipe, check out my gluten free Cottage Pie recipe.
For my risotto, I have tried using different ingredients to make this dish extra special.
My favorite risotto is made by mixing low sodium gluten free chicken stock, shallots, asparagus, baby bella mushrooms and pancetta. At the end, l sprinkle in a cup of parmesan cheese and add mascarpone cheese. I also add in 2 Tablespoons herbs de provence.
Risotto can be made vegetarian. Just use mushroom stock as the base and add your favorite vegetables and viola.
Steps for Making Gluten Free Risotto
Step 1)
Gluten free Risotto is not a one pot meal. To do it right, you will need one pot to heat the stock in, and a dutch oven to make the risotto. I also use a smaller pot to boil the asparagus.
Step 2)
I combine two 32 ounce low sodium organic chicken stock with 2 cans of organic butternut squash. I put the stock pot on medium heat and let it heat up.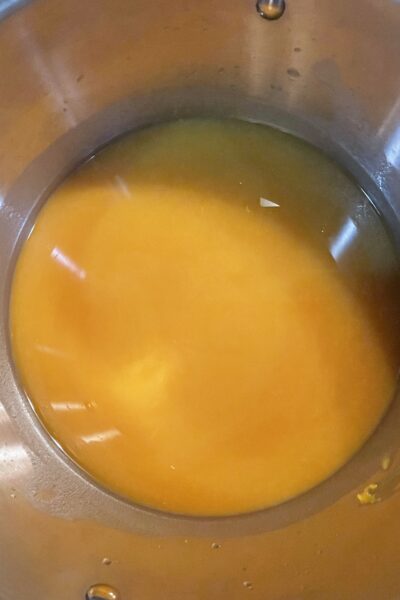 Step 3)
I set up my dutch oven: I use a Le Creuset 5 quart braiser for my gluten free risotto. I have found through trial and error that this braiser pan works the best for risotto.
I first saute 2 packages of chopped GF pancetta in about a tablespoon of olive oil. I saute it on medium heat for 5 to 10 minutes until the pancetta is nice and crispy.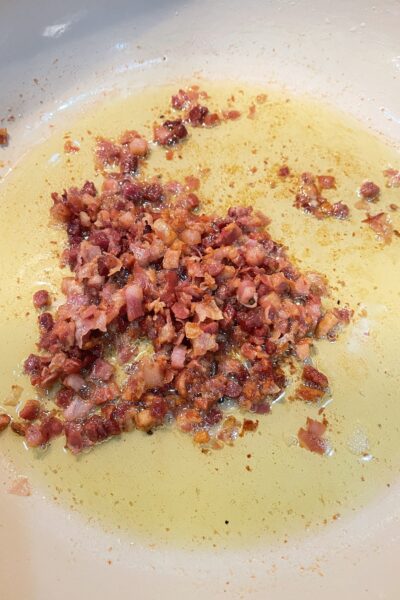 Step 4). Remove the cooked pancetta and set in a bowl with a paper towel to pick up any excess oil. Then add a tablespoon butter and add the baby bella mushrooms. Saute until soft-about 5 minutes or so. Remove from heat and set aside in a dish.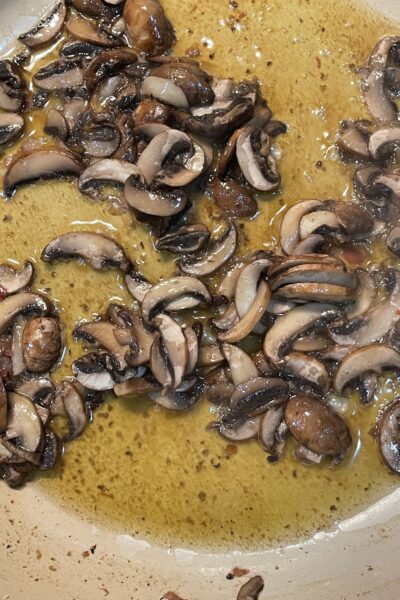 Bring a small pot to boil-then add one head of asparagus chopped and cook for 4-5 minutes. Make sure to salt the water. Once cooked, drain and set aside till the risotto is fully cooked.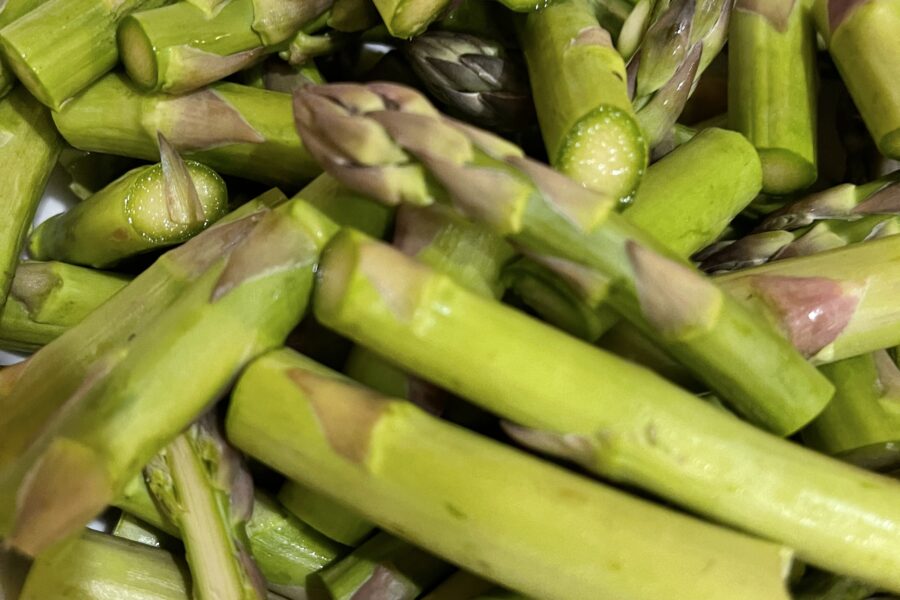 Step 5). I drain the excess oil and add 2 tablespoons of butter and add 2 medium finely chopped shallots. Saute for a couple minutes until soft. Then add 2 cups of arborio rice and saute for about two minutes to get the rice lightly toasted.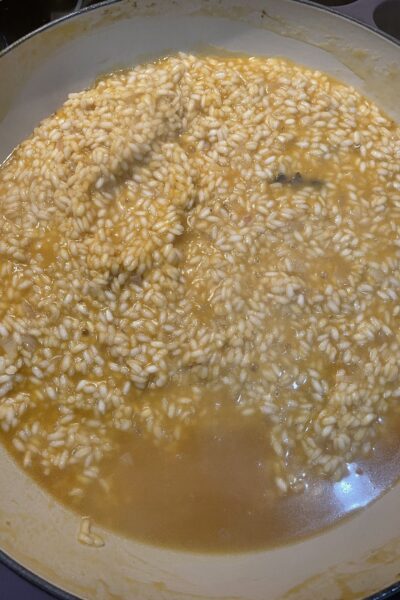 Step 6). Here is where some patience is needed. Add one ladle and stir rice very frequently. When the liquid gets low, add another ladle. Keep doing this for about 25-30 minutes until the rice is cooked but al dente.
Step 7). Add the cooked pancetta, baby bella mushrooms and the asparagus. Then add an 8 ounce container of mascarpone cheese and 1 cup of parmesan cheese. Add 2 tablespoon of herbs de provence and stir to combine all the ingredients.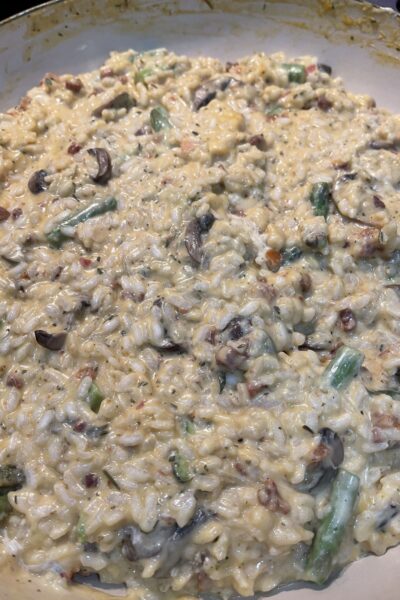 Print
Gluten Free Risotto
Risotto is one of the classic Italian dishes. This gluten free risotto is so creamy and filling, and its a crowd pleaser for sure.
Prep Time:

20 minutes

Cook Time:

30 minutes

Total Time:

50 minutes

Yield:

6

1

x
Category:

Main Course

Cuisine:

Italian
2

packages GF diced Pancetta

1 Tbsp

Olive Oil

2

32 ounce Low Sodium GF Chicken Stock ((Organic if possible))

2

15 ounce Butternut Squash Puree in a can ((Organic if possible))

1

package Baby Bella Mushrooms ((sliced))

1

head Asparagus-chopped into even pieces

2

medium Shallots ((finely chopped))

3 Tbsp

Butter

2 cups

Arborio Rice ((GF))

1 cup

Parmesan Cheese

1

8 ounce Mascarpone cheese
Instructions
Heat up two containers of low sodium Chicken Stock and 2-15 oz cans of Organic Butternut Squash puree in a stock pot on medium heat. Stir well to combine.
Saute the pancetta with 1 Tbsp of olive oil on medium heat until nice and crispy about 10 minutes. Remove the pancetta using a slotted spoon and put in a bowl that has paper towel to absorb the oil.
Boil cut asparagus in salted water for 5 minutes. Remove from heat and set aside until the arborio rice is fully cooked.
Add 1 Tbsp of butter to the dutch oven and saute on medium heat- then add the sliced baby bella mushrooms until soft about 5 minutes. Remove from heat and set aside.
Remove the excess oil from the dutch oven and add 2 Tbsp of butter. Add the finely chopped shallots and saute for a couple minutes until soft.
Add 2 cups GF arborio rice and saute for about 2 minutes and let the rice lightly toast up.
Add one ladle of chicken stock at a time and stir till most of the liquid is gone. I keep the cook top close to medium heat. If you find that the arborio rice is cooking too fast or browning, turn the stove down a little bit. Then add another ladle. Repeat till most or all of the stock is gone. Frequent stirring is crucial to making good risotto.
Once the risotto is al dente, add the 8 ounces mascarpone cheese and 1 cup of grated parmesan cheese. Add the cooked pancetta, mushrooms and asparagus. Stir to combine everything.
Add 2 Tbsp of Herbs de Provence. Stir and serve.
Notes
Make sure you do not cook the arborio rice on too high of heat.  I would not go higher than medium heat.  I usually cook mine slightly under medium heat.  I have an induction cook top- so mine tends to cook faster.
This is a double batch so that you can have left overs for lunch or for another dinner.
This can be made 100 percent vegetarian.  Just add mushroom stock or your favorite vegetable stock and omit the pancetta.  I do find that the mushroom stock adds a little more robust flavor than vegetable stock.  It is still delicious without the meat.
Eat as soon as its done.  Risotto tastes the best right after it's al dente.  Do no not over cook arborio rice.  You do not want to eat mushy rice.
Shop this Post-
As an Amazon Associate I earn from qualifying purchases. This post may contain affiliate links which means I make a small commission at no extra cost to you. See my full disclosure
here.